20 Leading Cannabis Dispensaries in California
Probe the list of some of the Cannabis Dispensaries in California, which are legalized to offer recreational marijuana to any adult age 21 or older with just an ID proof or driving license.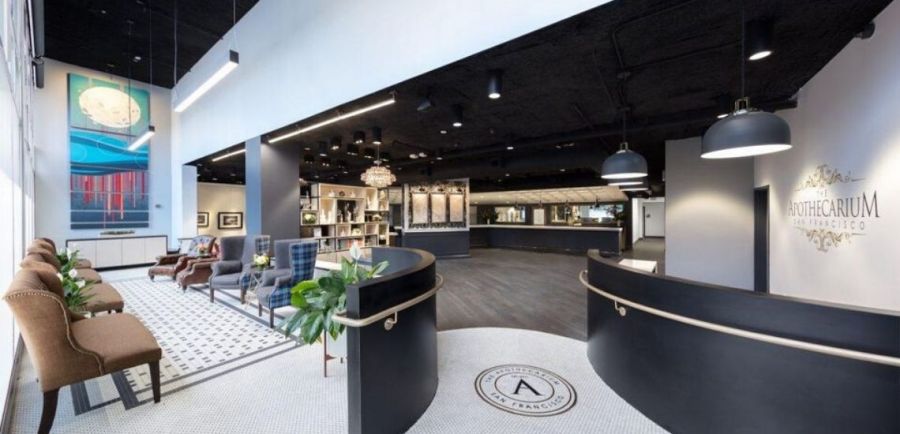 22/01/2020
In 2016 Proposition 64 (Prop 64) passed by a margin of 56% to 44% for the legalization of marijuana in California, as of January 2018, the law passed in California that any adult age 21 and over with the valid ID or driving license can buy recreational cannabis legally. So if you are a legal cannabis consumer and looking for the best California Dispensaries. We have listed here some of the best marijuana dispensaries serving medical and recreational cannabis products to marijuana lovers.
CC101
Voted as the best cannabis dispensary, CC101 is one of the leading cannabis clubs in Sacramento, California. They have an assortment of the industry's finest edibles, concentrates, and even flowers. The dispensary has some of the largest varieties of cannabis products available in Sacramento to serve their customers. Their products include cartridges, vape pens, Sativa, hybrid cannabis, edibles, extracts, and gears.
Barbary Coast Dispensary
Barbary Coast Dispensary was established in 2013 and is one of the premier recreational cannabis dispensaries in San Francisco, California. For recreational cannabis, they create a safe, clean and comfortable environment for their clients. Barbary Coast Dispensary offers its 21+ recreational users the opportunities and benefits of a wide variety of products and methods to suit every preference. Their high-end dispensary, dab-bars, and lounge are must-see destinations providing the perfect atmosphere to shop, smoke, vape, relax and enjoy.
Cloud Nine
Cloud Nine carries the best cannabis available in California. At cloud nine they are dedicated to giving cannabis products that are out of this world, offering the top-shelf medical and recreational cannabis products at an affordable price. For them, their customers are the first priority and strive to exceed their expectations by providing a range of cannabis that is natural, effective and high-quality. The ranges of their product include 23 types of edibles, 29 types of extracts, 5 types of pre-roll, indica, sativa, hybrid, vape, and gears.
A Green Alternative
A Green Alternative is one of the best cannabis dispensaries in California and one of the first cannabis dispensaries. They serve both the customers who are under a physician's care that have received their MMIC card and an adult over 21 customers. A Green Alternative holds a menu with a huge variety of cannabis products which includes bars, beef jerky, bongs, brownies, butter, candy, candies, chocolates, cupcakes, drinks, edibles, grinders, herbs and many more. They are serving safe and potent medical and recreational marijuana.
Grass Roots
For over 10 years, Grass Roots supported the therapeutic advantages of cannabis with a buying experience that exceeds expectations. As the medical and recreational marijuana dispensary, they provide a wide range of convenient service across the San Francisco and the surrounding Bay Area communities. The dispensary stores one of the bay area's selections which include fresh flowers, tasty edibles, premium vape cartridges and accessories for every occasion.
Mercy Wellness
Mercy Wellness is been committed to providing safe access to medical and recreational cannabis products for their consumers and patients. They become one of the best cannabis dispensaries in Sonoma County, California. The dispensary began to sell cannabis to all adults over 21 years of age, with no medical recommendation required. Mercy Wellness offers the selection of cannabis including flowers, sativa, indica, hybrid, concentrates, edibles and cartridges.
The Apothecarium
The Apothecarium is a medical and recreational cannabis dispensary in California. They offer a board selection of cannabis, including flowers, edibles, topicals, and concentrates and all the products are batch tested for purity. The Apothecarium stands out as an international model with the three branches, one in San Francisco Castro, Las Vegas and San Francisco Marina and planning to open one in Soma. Their goal is to help and find the right medicine and recreation of cannabis as per their customer's demand.
Golden Health & Wellness
Golden Health & Wellness is one of the best cannabis dispensaries in Northern California, providing both medical and recreational marijuana. The dispensary has recently moved to Sacramento due to their ever-growing operations. They provide award-winning brands and strains that take care in their cultivation efforts. Golden Health & Wellness provides cannabis-infused products like edibles, indica, topicals, vape, hybrid, and gear.
House of Organics
House of Organics is a premier dispensary with all-natural and organic cannabis products. All products are tested to ensure that their customers receive the best quality cannabis strain possible. With the help of their friendly and knowledgeable budtender staff, they are able to pay attention to their customers and make them comfortable. House of Organics offers a wide range of selection of cannabis edibles, pre-packed cannabis, vape pens, accessories, and many more.
West Coast Cannabis Club
West Coast Cannabis Club a marijuana dispensary serving the Coachella Valley. It is a non-profit mutual benefit corporation, offering its members desirable medicinal solutions of the highest quality. Their staff helps there consumers with comprehensive product knowledge combined with above-board industry compliance. As an industry leader, West Coast Cannabis Club's vision is to transform the cannabis industry with providing a wide selection of cannabis including indica, sativa, hybrids, edibles, drinks, extracts, tropicals, pre-rolls, and gears.
Bud and Bloom
Named one of the "Best 10 Most Beautiful Dispensaries in the U.S." by Leafly, Bud and Bloom, situated in Santa Ana, is surely that. Delightful taking off roofs, hand-created, wide board wood floors and fresh, current showcase cases are a gala for the eyes and inviting in each sense. Bud and Bloom was one of the first dispensaries to get a recreational cannabis permit in Orange County and is effectively associated with community network outreach, offering free transport for seniors to and from the dispensary to shop and associate with their companions.
Airfield Supply Company
A dazzling dispensary in San Jose, Airfield Supply Company accepts "high is a place," so stop on in and plan for departure. This boutique-style dispensary offers a wide determination of the best cannabis strains, concentrates, edibles, and clones. There is likewise an on location nursery, garden and grow rooms. To top it all off, they offer Happy Hour each Monday and Wednesday from 2p-4p where blossoms, concentrates and edibles are 20% off!
Urban Pharm
Past the super inside structure, you're here for some tip top level greens from Krush Kings, Alien Labs, or Fig Farms. To top it all off, Urban Pharm offers a "lounge and dab bar" where you can enjoy a smoke or an edible on site. Maybe you'll discover the motivation to compose the following incredible American epic basing on carriers and characters wearing goggles that fill no genuine need.
Urbn Leaf
With three different locations across California, Urbn Leaf offers a plethora of products – both recreational and medicinal. It's known as California's must see retail cannabis boutique, featuring a high end, comfortable atmosphere and professional attitude that invites inquiry, discovery and conversation.
Exhalence La
Based in LA, Exhalance is known for its signature strains such as Diablo, Skywalker OG, and Girl Scout cookies. They're all grown in-house in the highly controlled Inhalence Garden. Exhalence also has edibles, beauty supplies, and pet-friendly CBD products.
Cookies
"The strain, the quality, the consistency, the freshness, the flavor, the scent, the benefits….it all starts with the flower" Cookies Los Angeles in Maywood, CA, located in the heart of Los Angeles County, is designed with the singular vision to produce world-class cannabis and cannabis products. Along with their strains, they also have a clothing line of their own which is sold at their store.
KindPeoples
Situated in Santa Cruz, KindPeoples offers a range of strains for purchase. KindPeoples is described as "a premier destination to experience Santa Cruz's rich cannabis culture". Visitors are greeted with a prerolled house blend of a locally grown flower, just for a dollar. Return customers get the privilege of taking advantage of "the express lane" for online orders – so you can come in, grab your grub and get going.
Caliva
Known for "striving for higher standards", Caliva offers a full range of products both at the dispensary and online as well. You can get Caliva products delivered straight to your doorstep. The dispensary is situated inside Caliva's 95,000 square-foot productions and cultivation facility – which means everything, is grown, harvested, processed, and sold on site.
Coachella Valley Church
A little different from other dispensaries, Coachella Valley Church is known as "The Rastafarian Church" where the blend teachings from the bible with cannabis. Before you enter into the church area, you can make a stop at the dispensary outside and grab your favorite green – or you can just visit the dispensary alone instead of going ahead into the church. The community offers spiritual guidance and help in collaboration with cannabis.
Purple Lotus
Purple Lotus is known as San Jose's most popular dispensary with over 50 strains, 100s of products and the Bay Area's most exotic Cannabis. At the Purple Lotus Patient Center, their goal is to "provide quality service, a comfortable atmosphere, and top quality medication for every budget"
The Pottery
Along with a full range of canna-products, The Pottery also sells canna-based merch. They hold canna-sessions about the world of cannabis and also deliver to your doorstep. If you're over 21 and have a valid ID (Including out of state) – you can shop at this dispensary without a medical certificate.
Looking forward to meeting you again next time.