Improving Your Dispensary's Customer Experience
Here are 5 tips that will help improve your cannabis dispensary's customer experience.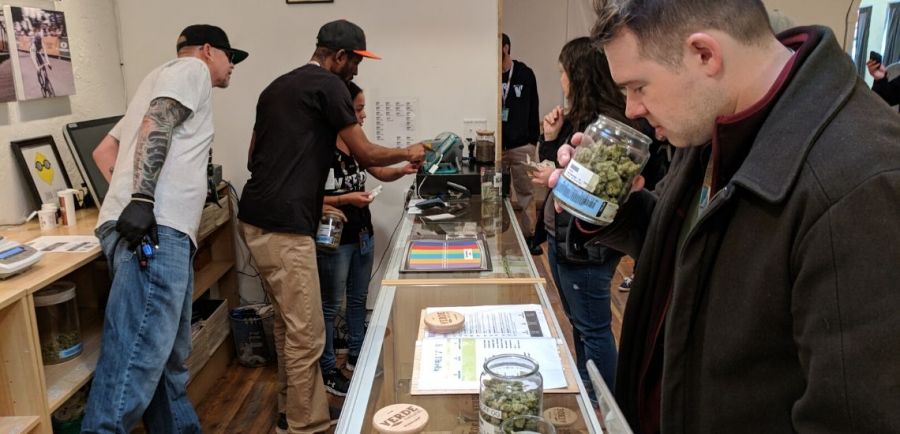 06/12/2019
Providing a comfortable and consistent customer experience at your cannabis dispensary is one of the key factors in making sure your customers keep coming back for more. There are a plethora of ways in which you can improve the customer service at your dispensary, and we're here to give you tips on improving your dispensary's customer experience, so your business grows, and the word about your dispensary travels around quickly.
Here are 5 tips that will help in improving your dispensary's customer experience.
Invest in your first touch point
[Website - Hollyweed LA]
Okay, so let's be honest here - before anyone goes ahead and visits your dispensary, they're going to look it up online. In this digital day and age, people are always impressed by good websites and social pages. So make sure that your website is what consumers want to see. The one thing you need to make sure is that your website is easy to navigate. Whether the consumer is a first timer, or a regular consumer, they should be able to find their way around your website and be able to understand the services you provide, and the kind of products you offer at your dispensary.
Similarly, a lot of people also end up scanning instagram feeds and other social feeds before they get in their car and drive up to your dispensary. So it's important to make sure that your social media promotes what you stand for, your services, your products - and of course, gives out a good brand impression.
Here's a little checklist to make sure your social feeds are up to the mark:
Update your consumers with new products and services

Make sure your social media gives a clear idea about what you do, and the types of products you have.

Stay active and interact with people who are liking and commenting on your posts. This will show them that your cannabis dispensary is there to help them out with all their canna-needs.

Create brand awareness. People should know about your brand, and should be able to spot your brand from anywhere. It's important to let people know about your brand, what you stand for, and what you do. Once you build brand awareness, more and more people will know about your dispensary - which in turn will attract footfall.
Make sure your budtenders are ready
Training your budtenders is very important in building a good experience for your customers. You aren't always going to have consumers who know exactly what they need. You're going to have a lot of first timers, and even regular canna-consumers who still might have questions and are looking to try something new.
This is where your budtenders step in. You need to make sure that your budtenders are well trained about the products you're offering, and that they are knowledgeable enough to know what to recommend to the consumer based on their needs.
A lot of times, you'll also find that consumers don't know what they want, so here, once again, your budtenders need to understand how to work around a situation like that. They will have to learn how to ask questions that don't make the customer uncomfortable, and will have to figure out how to help the consumer and what to recommend.
Create a welcoming and comfortable ambiance
You need to remember that even though cannabis is getting legalized around the United States, it's still not an open book for everyone. Not everyone who might enter your dispensary might feel settled. In fact, it's very possible for them to feel confused and feel like they're in the wrong place. However, if you create a welcoming ambiance for the customer, then there's no way they'll feel odd.
Here's a checklist on how you can create a welcoming ambiance for your customers:
Make sure the lighting isn't too dark, or too bright. It shouldn't feel like they're entering a place different than a regular store. In the end, you don't want to make them feel intimidated by the atmosphere.

Have someone welcome the customer, but make sure they don't bombard them with questions and make them feel overwhelmed. So, you can have one of your staff members ready to assist to people who just enter, by making them feel like they're in the right place. The best way to do this is just by welcoming the customer, and taking them towards the shelves - and then giving them some space to browse by themselves.

Create a seating space if there's a certain amount of waiting, so the consumer can relax.
Create a customer loyalty strategy
If you offer a good customer experience, then they're bound to stay loyal to your dispensary. One way to gain customer loyalty is by putting in place a rewards programme.
Here are a few things to keep in mind while creating your customer loyalty strategy:
Offer a rewards programme. So you can offer discounts or reward points on a large purchase, or you could also offer one of those punch cards - where the customer will receive a discount or a free sample on let's say, their fifth purchase.

Offer samples to your customers. A lot of people are usually skeptical about trying new things, but if you offer them a sample, then they will gain trust in your products and your dispensary, since they will have the opportunity to try something new without. Once this trust is built, of course they will find it more comfortable to be in your dispensary than any other.

Stay in touch with your customer even after they step out of your dispensary. You can reach out and ask them if they like your products, and if they're dealing well with them, and if there are any issues - they should be able to feel free to come back and consult with a budtender.
Make navigating around the dispensary easy
Make sure that finding products around your dispensary is very easy for the customer, and there's always a budtender on hand if a customer needs help. It's important for your customer to be able to find things easily and not spend too much time searching for what they want. If things are easy to find, and there's help around - the customer will enjoy the experience at your dispensary since things will be done quickly, and they'll also most likely spread the word about your dispensary.
Looking forward to meeting you again next time.