CannabisNow Partners With BTN For Upcoming Cannabis Events
Cannabis Now have partnered with Beverage Trade Network (BTN) for Cannabis Food Show, and Cannabis Drinks Expo, set to take place in the summer of 2021.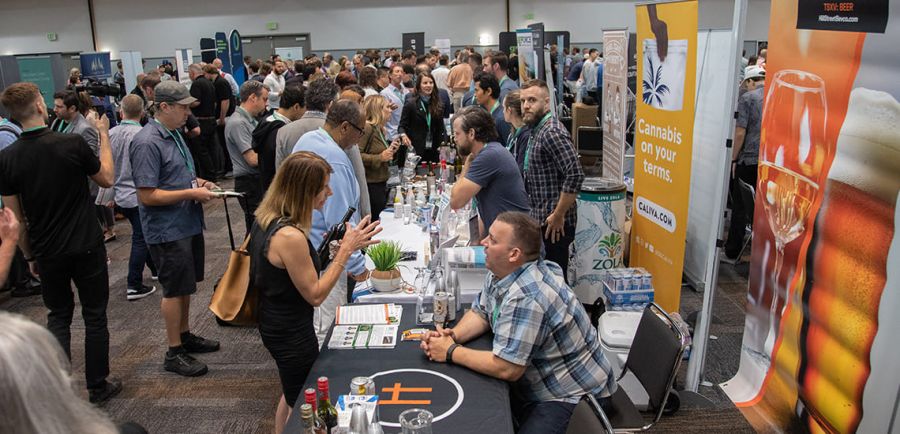 16/01/2020
CannabisNow and BTN have joined hands to bring exposure and expansion in the cannabis industry. With CannabisNow being one of the United States' leading cannabis magazines, and BTN organizing industry moving events for the canna-world (Cannabis Food Show & Cannabis Drinks Expo), both platforms are set to take the industry one step ahead.
Cannabis Drinks Expo (CDE) and Cannabis Food Show (CFS) are both B2B events, that offer both expansion and a point of opening in the cannabis industry for brands and entrepreneurs. Organized by Beverage Trade Network, CDE and CFS are set to take place in the summer of 2021, in both San Francisco and Chicago. With the help of CannabisNow, BTN will be able to shine the spotlight on both CFS & CDE and bring the shows in front of canna-preneurs who are looking to take a step forward in the industry.
Both events (CDE & CFS) are expected to attract over 1000 visitors from the canna-world, including dispensaries, cannabis testing labs, venture capitalists, cannabis brands, entrepreneurs and other faces from the cannabis industry. Anyone looking to expand their already existing cannabis business, or looking to enter the cannabis industry with their edibles or cannabis drinks, both CFS and CDE are the perfect shows to be at.
Cannabis drinks and edibles brands, and solution companies from across the United States are going to set up their booths and share exhibit their products and services to all visitors.
CannabisNow and Beverage Trade Network will both be shining the spotlight and offering a widespread platform to brands from the canna-world, that are looking to grow in the industry, and also to those brands and companies that want to take their first step into the ever-growing world of cannabis.
Along with a tradeshow floor, CDE and CFS will also have conferences held by major names from the cannabis industry. Some of the speakers will include:
Speakers at the Cannabis Food Show:
David Banks - Vice President, Global Food & Beverage

Andrea Drummer - Director of Food & Beverage, Elevation VIP Cooperative

John Giammanco - General Manager of Delivery Services, Coastal Dispensary
And many more…
Check out the full list of speakers here
Speakers at Cannabis Drinks Expo:
And many more…
Check out the full list of speakers here
About CannabisNow
CannabisNow is one of the country's leading marijuana lifestyle magazines and is also a brick-and-mortar retailer. CannabisNow gives readers updated industry news, events, and more. The media platform and retailer is also known for its educational content and its CBD products at the retail level. The Cannabis Now LA retail store is located on the corner of 3rd & La Cienega at the Beverly Connection.
About Cannabis Food Show
Organized by Beverage Trade Network, the Cannabis Food Show will also look at the opportunities for cannabis edibles in the restaurant sector and the emergence of new cannabis-dedicated dining concepts. It will also look to follow its winning formula of holding both an agenda-setting conference, featuring cannabis experts and leading speakers from across the sector, alongside a trade exhibition featuring the biggest producers, players, and brands in cannabis edibles. Giving distributors and retailers the chance to discover the fastest growing and leading cannabis food brands.
About Cannabis Drinks Expo
Organized by Beverage Trade Network, the Cannabis Drinks Expo in San Francisco will feature wine and cannabis industry experts, distributors and retailers, as well as political and legal analysts, medical researchers, and marketing & branding experts. They will discuss topics such as the current regulatory and policy landscape for cannabis drinks, licensing requirements, and market opportunities within the hospitality and tourism sectors.
About Beverage Trade Network
Beverage Trade Network is the world's leading B2B beverage networking & media platform, creating global platforms & marketplace for the drinks & cannabis industry to learn, network & grow. Along with Cannabis Food Show and Cannabis Drinks Expo, BTN also organizes other tradeshows such as IBWSS China, IBWSS UK, IBWSS San Francisco, and USA Trade Tasting in New York. The platform also shines the light on wines, beers, and spirits, by bringing them in front of trade buyers through their competitions like Sommelier's Choice Awards, Bartender's Spirits Awards, London Wine Competition, London Spirits Competition, and London Beer Competition.
Looking forward to meeting you again next time.