Cannabis Cafes and Restaurants Are Popping Up All Over the USA
The stage is set for cannabis cafes and restaurants to pop up all over the United States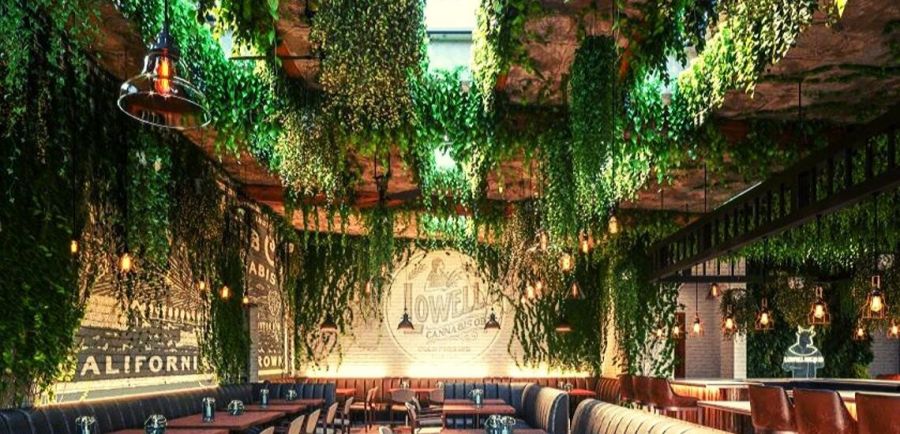 07/10/2019
Just a few years ago, the only place to buy cannabis legally was at a medical dispensary in a state that had already legalized cannabis consumption for medicinal purposes. But that is rapidly changing due to more states legalizing recreational cannabis use. Currently, 11 U.S. states (in addition to the District of Columbia) have legalized recreational cannabis use, and the number figures to grow even more in coming years to become a truly nationwide phenomenon. The fact that recreational cannabis is now legal in more than twenty percent of the nation is setting the stage for cannabis cafes and restaurants to pop up all over the United States, especially in California, where upscale cuisine and cannabis are turning out to be an attractive and potent combination.
One landmark event that is on the radar of all cannabis enthusiasts is the much-anticipated opening of the Lowell Farms Cafe in West Hollywood. The new dining establishment, spearheaded by chef Andrea Drummer, is now billing itself as the "first full-service restaurant and lounge to offer farm-to-table cannabis and cuisine." To get around potential regulatory and legal concerns, Lowell Cafe will actually house two establishments under the same roof - the Lowell Farms Cafe, which will offer farm-to-table cuisine, and the Lowell Herb Co., which already has a huge celebrity following in California. Guests will have the option of ordering items from both menus, and receive two different checks in the process. Tableside "flower service" means that customers can order, open up and use cannabis directly with cannabis-inspired cuisine offerings. While Lowell Cafe has a rustic vibe to it, the ambition is certainly there to spark a nationwide phenomenon right in West Hollywood.
Overall, West Hollywood has handed out 8 different licenses for cannabis consumption, all in the hopes that it will spark a sort of cannabis restaurant revolution in the city, not to mention create new tourist demand as people from all over the state (and perhaps the nation) descend on West Hollywood to see what the future of the restaurant industry might look like. Another business that could make waves nationwide is The Antidote, a CBD boutique and upscale cannabis restaurant coming in Spring 2020 to West Hollywood. The establishment, helmed by Los Angeles-based restaurateur Kirk Cartozian, will also feature a commissary selling a wide range of THC sauces and dressings that can then be used by customers either at home or at other dining establishments in West Hollywood.
What makes Lowell Farms Cafe and The Antidote different from other cannabis restaurants and cafes is that they will be operating in full public view. Yes, they will have to play by a few more additional rules - such as the need to operate at least 600 feet away from a school or day care - but they will largely resemble traditional dining establishments. The same way you'd walk into an upscale restaurant and order a farm-to-table dish, you'd be able to walk into Lowell Cafe and order a crop-to-table dish specifically infused with cannabis. Since recreational cannabis use is so tightly regulated, and is not yet legal on the federal level, it's perhaps no surprise that these institutions have heightened concerns about how to ensure that they are not running afoul of any federal statutes that might put their business - or the personal lives of their customers - in legal jeopardy.
For that reason, the typical cannabis "restaurant" or "cafe" tends to either be a bakery or coffee shop selling some high-end tasty snacks and perhaps a cannabis-infused coffee. Los Angeles-based Fiona Bakery, led by chef Nicole Rucker, is just one example of what's possible with this concept. Formerly the pastry chef of the Gjelina Group (including G.T.A. and Gjusta), Rucker is known internationally for her rustic desserts and has won several awards for her homespun pies. Now, she's turning her attention to award-winning tasty munchies designed to be enjoyed with cannabis. Another cafe in this mold is Colorado's Strava Craft Coffee, led by Andrew Aamot. The main attraction at Strava is the ability to pick up a CBD-infused coffee. That's also the allure at Colorado's Blue Sparrow Cafe.
What's notable about the current buzz about legal cannabis is that it is leading to the creation of entirely new types of establishments. Underground supper clubs, for example, have popped up as a way for celebrity cannabis chefs - such as "The Herbal Chef" Christopher Sayegh - to develop a dedicated following of canna-curious consumers and cannabis connoisseurs. The Herbal Chef bills itself as a sort of star cannabis culinary team for hire. If you're looking for high-quality flower for an upcoming investment dinner, a large-scale private catering event (such as a wedding), a private dinner for anywhere from 2 to 50 people, or a business catering event, then The Herbal Chef has a potential solution. Type in "cannabis restaurant" on Google, and the chances are high that The Herbal Chef is one of the first few search results you will find.
For cannabis food to go really mainstream, however, it will have to emerge from the underground and become something that seems to be as natural as ordering a glass of beer or wine at a restaurant. Some influential tastemakers in the world of cannabis food have suggested that dedicated cannabis consumption cafes might be the answer. At these establishments, it would be possible to smoke weed while enjoying a cannabis-infused dish, and perhaps even take home a cannabis-inspired food product for later private use.
Certainly, the future is looking very bright for the future of cannabis restaurants and cafes. Once Canada legalizes recreational cannabis use in late 2019, it might mean that cities like Toronto or Vancouver blossom into top-flight destinations for cannabis chefs, restaurateurs, mixologists and foodies. As modest cafes transform into upscale restaurants, it will be possible to see the new future of the restaurant business - one in which zero-alcohol wines and spirits are the new norm, and patrons prefer to light up some top-flight flower before a meal rather than ordering a traditional appetizer.
Image Source: Lifetime Financial LLC
Exhibit your brands at the 2021 Cannabis Edibles Expo and meet 1000+ visitors including dispensaries, distributors, investors, and press under one roof. Book your exhibitor spot now for $1600. (20% off if exhibiting at both venues)