14 Cannabis Chefs, Mixologists and Restaurants in the USA That Are Bringing Cannabis Food Culture to You
Here's a closer look at 14 chefs, restaurants, cafes and hospitality groups that are helping to shape the future of cannabis cuisine.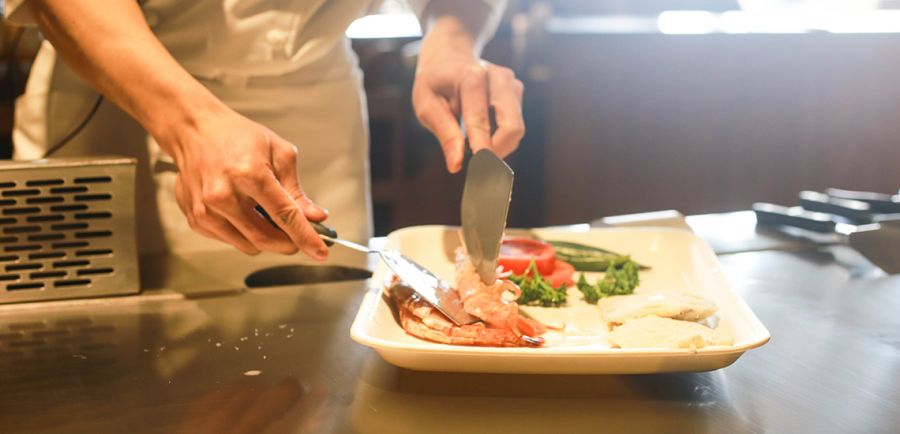 09/10/2019
If there's one mainstream foodie trend that's ready to tip into the mainstream in 2019, it's cannabis food culture. A powerful mix of chefs, restaurateurs, mixologists, and food industry innovators are now ready to bring cannabis cuisine to dining establishments across the 11 different U.S. states where recreational cannabis is now legal. Here's a closer look at 14 chefs, restaurants, cafes and hospitality groups that are helping to shape the future of cannabis cuisine.
One of the foremost innovators in the upscale cannabis cuisine space is Chris Sayegh, who is better known within the cannabis industry as The Herbal Chef. His goal from the outset has been to take cannabis cuisine mainstream, and towards that goal, he has set up an Herbal Chef mini-empire that includes business catering, meal preparation for health-conscious individuals, large-scale catering events such as weddings, and private dinners for anywhere from 2 to 50 people. It's these private dinners that are the real sweet spot for The Herbal Chef, and it's what has given rise to the whole idea of pop-up cannabis cuisine dinners across the USA.
The culinary director of The Herbal Chef is Gary Nguyen, a former sous chef at Melisse Restaurant in Santa Monica, California and former Chef de Tournant at Alma Restaurant in downtown Los Angeles. Together with Chris Sayegh, he is helping to vastly expand the range of culinary events that are possible to create for the canna-curious.
Gabe Kennedy is a highly-trained chef from the Culinary Institute of America (CIA) who is also a co-founder of Plant People, a cannabis wellness brand. Gabe is also a world traveler, TV host and environmental advocate.
An accomplished artisanal baker, chef Nicole Rucker is the creative force behind Los Angeles' Fiona Bakery, the home to an expanding array of tasty edible treats and munchies. Her creations such as an avocado chocolate mousse have been featured on VICE's Bong Appetit.
Cannabis cuisine has taken off to such a degree in California that chef Rachel Burkons has even created a cannabis-focused hospitality group called Altered Plates that can create just about any type of cannabis food experience. Right now, Altered Plates operates more along the lines of an underground supper club than a mainstream dining establishment, but that could change in 2020 when cannabis cuisine restaurants in West Hollywood are set to go truly mainstream. At the recent Cannabis Drinks Expo in San Francisco, Burkons explained her philosophy behind cannabis culture and the whole crop-to-table movement.
Chef Holden Jagger is a co-founder of the cannabis hospitality group Altered Plates with his sister Rachel Burkons. Jagger generated mainstream media attention in early 2019 after hosting an "Exploration of Terpenes" presentation at the James Beard House for an assembled group of culinary luminaries.
In Canada, recreational cannabis use is set to go mainstream at the end of 2019. One of the chefs leading the way is Travis Petersen, who is perhaps best known for hosting cannabis-infused dinners at Airbnb rentals across Canada and for his creation of The Nomad Cook cannabis brand.
One of the highest-profile chefs behind the legal cannabis trend is chef Andrea Drummer, who is the creative force behind Lowell Farms: A Cannabis Cafe, the first full-service cannabis restaurant in the USA, set to open in Fall 2019. When West Hollywood awarded 8 different cannabis consumption licenses in 2019 out of a field of nearly 300 applicants, Andrea Drummer was one of the first selected to run a cannabis-themed restaurant. What makes the Lowell Farms Cafe distinctive is that it will be the first truly full-service restaurant to offer farm-to-table cannabis and cuisine under the same roof, thanks to a partnership with the celebrity-friendly Lowell Herb Co. Lowell Cafe will offer tableside "flower service" and feature a team of "budtenders" who can help restaurant patrons select the perfect cannabis accompaniment for their culinary dishes. Prior to opening Lowell Cafe, Drummer has been featured on the Netflix show "Cooking on High" as well as the late-night TV show "Chelsea Lately."
A "Top Chef" alum, Spike Mendelsohn is the creative genius behind the PLNT CBD beverage line, as well as the head chef at the Springfield, Virginia eatery Vim & Victor.
If you would like to know where the future of craft coffee is headed, look no further than Denver's Strava Craft Coffee, which has emerged as a real pioneer in the area of CBD-infused coffee that is designed to be consumed on-premise rather than off-premise. Strava Craft Coffee has widened its focus to include the distribution of its cannabis-infused coffee to other restaurants and cafes.
To date, one of the biggest challenges facing cannabis chefs and restaurateurs is how to make cannabis part of a family-friendly, neighborhood experience. One of the restaurateurs helping to make this happen is Ron Silver, the Founder and Chief Creative Officer at Azuca (which features fast-acting cannabis edibles) and the creative force behind Bubby's, the New York City family-friendly institution that is gaining acclaim for its CBD-infused syrups and drinks.
One of the best-known mixologists working in America today, Eben Freeman is also the Executive Product Director for the cannabis product company Azuca. Native New Yorker Eben Freeman has worked in the city's food and beverage industry for nearly two decades.
Known to his fans as "The Cocktail Whisperer," mixologist Warren Bobrow has been at the forefront of combining cannabis and craft cocktails for upscale dining establishments. At the recent Cannabis Drinks Expo in San Francisco, Warren Bobrow wowed the audience of cannabis connoisseurs and canna-curious consumers with his display of craft cocktail prowess.
Kirk Cartozian is a California-based restaurateur who is the creative force behind The Antidote, set to open in West Hollywood in Spring 2020. The Antidote will be an upscale cannabis restaurant with a commissary kitchen producing sauces, butter, and oils infused with CBD and THC. The Antidote is currently LA's premier CBD boutique.
Chris Sayegh (The Herbal Chef)

Gary Nguyen (The Herbal Chef)

Gabe Kennedy (Plant People)

Nicole Rucker

Rachel Burkons (Altered Plates)

Holden Jagger (Altered Plates)

Travis Petersen

Andrea Drummer (Lowell Farms and Lowell Herb Co.)

Spike Mendelsohn (PLNT and Vim & Victor)

Andrew Aamot (Strava Craft Coffee)

Ron Silver (Azuca and Bubby's)

Eben Freeman (Azuca)

Warren Bobrow

Kirk Cartozian
Together, these cannabis food entrepreneurs and trendsetters are building an entirely new cuisine and launching new trends with a truly nationwide impact. As the cannabis food trend continues to gain momentum, they will be at the forefront, helping to take cannabis mainstream within the food and beverage industry.
Looking forward to meeting you again next time.