5 Popular Cannabis Edible Companies in the US
We've witnessed a natural grouping of cannabis firms into a few distinct categories as the market for legal cannabinoids continues to thrive in 2022. Here are some of the most popular cannabis edible brands.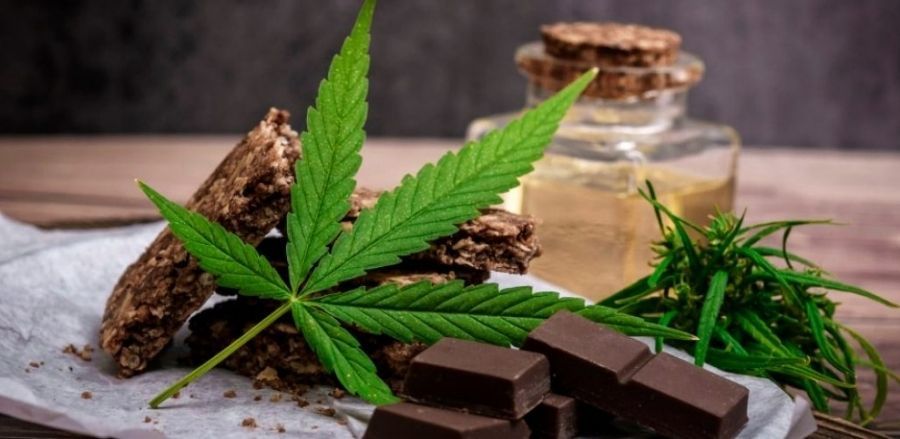 09/02/2022
Cannabis is also known as marijuana or weed in colloquial terms. It refers to the dried flowers, stems, leaves, and seeds of the Cannabis plant. It is a popular substance that millions of people use for pleasure or to cure chronic health concerns.
Recreational edible cannabis products became popular in the United States throughout the 1960s. Various edibles are accessible, both legally and illegally, depending on state legislation.
The market has produced a broad range of items, ranging from therapeutic and pre-rolled joints to recreational CBD edibles.
Cannabis aficionados can also create cannabis products by mixing oil or butter with cannabis and incorporating it into baked goods and other recipes.
Cannabis can be consumed in various ways, the most common of which are vaping, smoking, drinking, and eating (commonly known as "edibles"). Candies, chocolates, capsules, gummies, teas, and oils are just a few of the edible cannabis products available in both legal and illicit cannabis dispensaries.
Here's the list of Cannabis Edible Brands:
Kiva Confections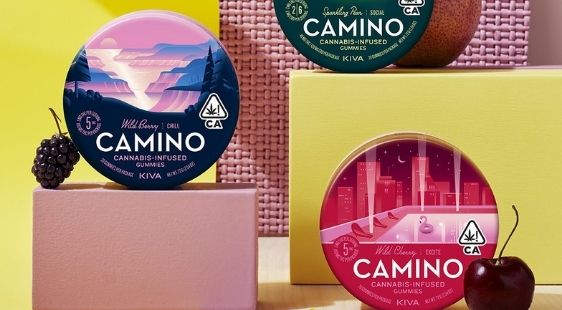 Image source: Kiva Confections, Camino sparkling pear gummies
Scott Palmer and Kristi Knoblich Palmer, a young couple, set out in 2010 on a mission to improve cannabis customers' edible experience. They feel that their customers have the right to know what exactly they are eating; this is the reason why Kiva was one of the first edible manufacturers in the US self-impose stringent standards for potency, production, packaging, and testing.
They feature various delectable consumables to fit any taste, such as gummies, mints, artisanal chocolates, and chews.
The Proper Cannabis Committee (PCC) graded and reviewed their edibles, finding them among the greatest of the best because of their outstanding consistency, exquisite tastes, and nuanced highs.
You can look for these popular Kiva edibles, terra sea salt caramel bites, petra Moroccan mints, Camino sparkling pear gummies, blackberry kiva bars.
Wyld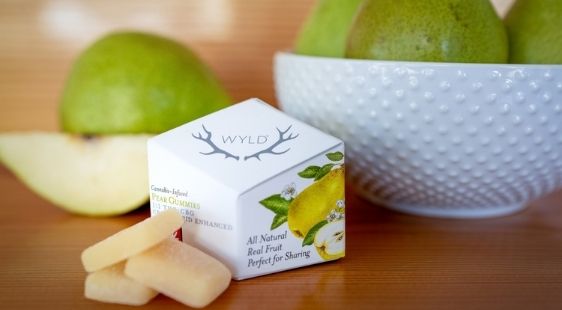 Image source: Wyld, Pear CBG (Cannabigerol) Wyld Gummies
Wyld was formed in 2016 to produce best-in-class cannabis treats made with real fruit and organic flavors. Wyld strives to deliver safe and effective health solutions by only using items that have been tested, developed, and authorized by several scientific research.
Wyld's success in the cannabis market has been built on its commitment to quality, operational excellence, and direct collaboration with its incredible community of merchants and budtenders.
Wyld CBD was launched in 2019. Wyld CBD has a variety of real fruit-flavored, broad-spectrum Hemp CBD edibles and sparkling beverages. Wyld was the number one CBD gummy and sparkling water brand at Natural Grocers nationwide in 2021. Wyld CBD Gummies are among the best-known and best-selling CBD products in the United States. In addition, they are well-known for their incredible and delectable CBD-based candy.
Must try!
Wana Brands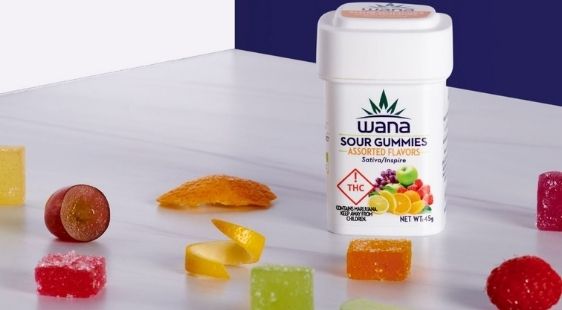 Image source: Wana Brands Instagram, Sour assorted flavor Gummies
Wana Brands is North America's leading edible company, appearing on the 2020 Inc. 5000 list at #2,074, claiming a three-year growth rate of 203 percent and having operations across the country.
Nancy Whiteman, Co-founder & CEO of Colorado-based Wana Brands, is committed to manufacturing only the greatest quality cannabis edibles, from strong gummies to delectable tarts.
Wana products come in various product forms, with varying CBD/THC ratios, dosages, onset times, and duration of effects.
Wana Assorted Indica Gummies are one of Cannaco's most popular Indica products and are always in high demand because of their cost and deliciousness.
Wana Assorted Sativa Gummies contain a blend of sweet fruit flavors and 10mg of THC per serving, making them an excellent way to enhance your energy levels throughout the day.
Plant Jam (Cloud Creamery)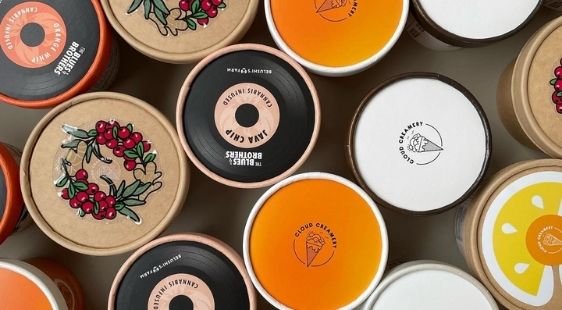 Image Source: CloudCreamery Cannabis-Infused frozen dessert
CEO and Founder of Cloud Creamery, David Yusefzadeh, was diagnosed with Crohn's disease in 2011. He was a Michelin Star Chef working 80 hours a week in restaurants and had no choice but to manage his stress and get some rest. David had to turn to prescription medicines to reconcile his enjoyment of life with his health. After being put on six different medications and two years on Remicade (the first chemotherapy drug), he decided it was time to change: alternative medicine. Cannabis was already a part of David's life in a social setting. He went to dispensaries to look at the edibles on offer when he was looking for a method to enhance his health, only to discover high-fructose corn syrup and heavy chemicals. Thanks to his amazing culinary skills, David knew there was an opportunity to introduce all-natural edibles with a story to the cannabis market.
David Yusefzadeh wants to elevate the eating experience with Cloud Creamery, using local products to help drive the industry forward and attract more customers.
The Cloud Creamery ice cream contains 5 milligrams of THC, the psychoactive component of cannabis, in an 8-ounce serving size. In addition, they have some award-winning cannabis-infused frozen desserts. Dark Chocolate Truffle and delicious Tanzanian Vanilla are available for their frozen desserts. There are vegan variations, such as the vibrant and strong Mango Yuzu.
Dixie Elixirs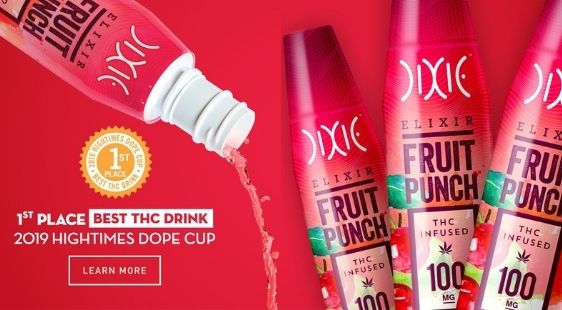 Image source: Dixie Elixirs
The Dixie Elixir (a THC-infused beverage) began as a single flagship product and since then has expanded to include over 30 other varieties with over 100 SKUs.
Dixie, founded in 2010, is a Denver-based producer of cannabis-infused consumables such as fruit punches, mints, and chocolates, as well as topical balms. For example, the Berry Lemonade is a mix of flavors of fresh and juicy wild blackberries with carbonated lemonade, the Fruit Punch combines the flavors of cherries, oranges, and a hint of pineapple, and the Half and Half is a twist on the classic Arnold Palmer, that unbeatable thirst-quenching combination of lemonade and iced tea.
Furthermore, the cap is marked with a 15 ml dosing line, which allows you to precisely measure a 6mg dose of THC for each serving.
Dixie suggests waiting at least 30 minutes for the effects of its elixirs to become apparent. However, depending on your recent meal intake and other factors, it may take up to two hours for the full effects to show, so be sure to wait the appropriate period before attempting a second dose.
Find your sweet spot, and enjoy.
Article by Aakriti Rawat, Beverage Trade Network
Header Image Source: Cannabis License Experts
Looking forward to meeting you again next time.