How Dispensaries Can Make The Most Of Social Media
Social media is a powerful tool for everyone, including dispensaries. Here's how dispensaries can make the most of the cannabis social network.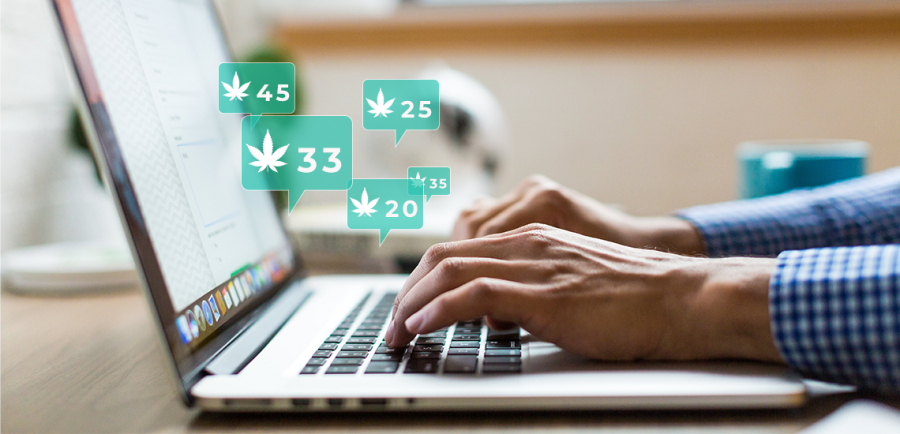 26/03/2020
We all know the power of social media. For most people, social media has become a way of life now. Everything people do is through social media. Whether they're looking for a new place to eat, or a place to shop, or just discovering in general.
So think of it this way, if your dispensary is all over the newsfeed of those looking for new things in the cannabis world, then they are definitely going to want to step into your dispensary or order from there.
Not only that, but social media is also a great way to connect, engage, and communicate with your customers. We all know how important it is to engage with our customers - and social media is the best way to do that. You need to keep them hooked onto your dispensary, so what better tool than the one they're scrolling through all day long?
The question isn't whether your dispensary should be on social media or not, because of course, it should. The question is how to do it effectively, and how your dispensary can make the most out of social media.
Engage, engage, engage
Engagement matters a lot. People follow pages and go to places that are friendly, and that listen to them. What better place than social media to listen to your audience? When you're posting on social media, make sure you connect with your audience.
Here are a few ways in which you can connect with your audience:
Ask them what they want to see

Ask them what they're thinking right now

Talk to them about their favorite products, and what they might want to see in your dispensary next

Reply to their comments and dms

Host an Instagram live where you share your dispensary with them, show them around, show them behind the scenes at your dispensary.

You can also do a q&a about your dispensary, and products in general where you provide educational content to your customers. Teach them new things.
Using these ways, your audience will be able to connect with you, which will make them feel like they're a part of your dispensary - and people love to feel a part of things.
Provide educational and fun content
Content is king, we're all aware of that. People are not going to come to your page if all you do is keep talking about yourself and your dispensary. Of course, there has to be some talks about your dispensary in your feed - but other than that, give your audience educational content.
Tell your audience about the different strains you have, different edibles you offer, educate them about them instead of just promoting that you stock them. Educate them on what they should be taking in different ways.
Here are a few ways in which you can create educational content:
Create blogs/excerpts of different topics that your customers might be interested in. It could be something like '10 edibles to help boost sleep', or any such content that would help your audience.

Make video content. Get your budtender in front of the camera and have him/her talk about different products, or have them hold a q&a for your customers. Customers love to engage with budtenders.

Start a podcast where you give educational content to your audience. All you need is a laptop and a mic - which isn't too much.

Create content with the brands you have stocked up at your dispensary. Tell their story, tell your dispensary's story to the audience so they can connect with you.
Creating content is easy, all you have to do is get up and create something your audience would enjoy.
Work with brands you've stocked up
If there are any particular brands that you've stocked up in your dispensary, then get in touch with them and have them talk about you on their social media. The brands you work with can easily put up something saying 'our products are stocked at …. Dispensary'. Similarly, you can also promote their brand on your social platforms. Tell your audience about the brands you're stocking, share the brand's story to make it more personal so they can relate to it.
This way, you will be gaining traction from their audience as well, and they will be gaining traction from your audience. It's a great way to pull in a new customer base.
Invest in influencer marketing
These days, there are a lot of people with large followings who support the cannabis movement, and influencer marketing has proven to be a great way to work on social media and gain traction towards your dispensary. Connect with an influencer, invite them to your dispensary, give them a full on experience - and then once they post about it, you'll gain the traction of their audience as well. You might have to invest a little bit of money in working with the bigger influencers, meanwhile some influencers just work on barter trade. Either way, include influencer marketing in your social media strategy.
Offer loyalty programmes
Your social platforms are a great way to promote loyalty programmes. Have your customers sign up for a newsletter, and offer them a dispensary experience or a free delivery if you deliver, or you can even offer samples. Or create online games that you can offer your customers with prizes like free delivery samples etc. This way, the customer will know that you care about them and will be inclined to shop from your dispensary. It's always good to let the customer know that you care about them.
So dispensaries, when are you starting to build your social media strategy?
Looking forward to meeting you again next time.