The 3 Best Edibles to Try in 2021
All of the fantastic brands mentioned in this article (and more) will be at the Cannabis Edibles Expo in San Francisco and Chicago!
13/09/2021
Do you remember the days of black market edibles? You either just bought oregano-infused brownies in the 7-11 parking lot or you're going to be higher than a kite in the next hour and a half.
Pre-legalization, we all took the dealer's word for it. There were no regulations, no dosing, and certainly no labs testing the half-baked Reggie brownies for potency. Your guy made edibles in his second-floor apartment with what he had: illegally grown weed and Betty Crocker cake mix. No telling the cannabinoid content, the cultivar, or anything else about it.
Thankfully, those days are gone, and legal, cannabis-infused edibles are growing more popular by the day. In fact, the cannabis product's category grew 60% from 2019 to 2020 in the United States, according to cannabis data analytics company, Headset, as reported by MJ Biz Daily.
Before 2021 ends, we challenge you to try a new cannabis-infused edible! Edibles are a smoke-free, convenient way to consume cannabis.
Here are a few of our favourites at Cannabis Edibles Expo:
Kiva Confections' Cannabis-Infused Chocolate Bars
Looking for luxury? You've met your match.
Kiva Confections carries a wide variety of cannabis-infused edibles, but their award-winning artisanal chocolate line is something to highlight.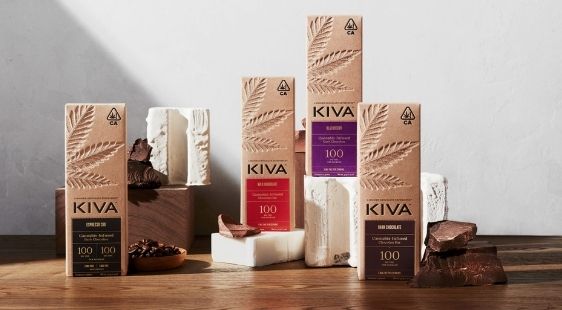 In Frame: Confections' Cannabis-Infused Chocolate Bars
Choose from 10 incredible flavors:
1) Milk Chocolate
2) Dark Chocolate
3) Blackberry Dark Chocolate
4) Midnight Mint Dark Chocolate CBD 5:1
5) Dark Chocolate CBD 5:1
6) Espresso Dark Chocolate CBD 1:1
7) Churro Milk Chocolate
8) Toffee Crunch Dark Chocolate
9) Raspberries & Cream White Chocolate
10) Munchies Milk Chocolate
You'll find each flavor has differing THC levels, for example, the Dark Chocolate CBD 5:1 contains just 1 milligram of THC per square, while the Milk Chocolate contains 5 milligrams of THC in each square.
Half Day - CBD-Infused Gummies
Take a half day. Kick your feet back, turn on the tunes, and grab your favorite CBD-infused gummies from Half Day.
Yup, CBD is cannabis! While (most) of the CBD products on this list are derived from hemp, hemp and marijuana are cousins. The only difference between the two? The plant's THC content.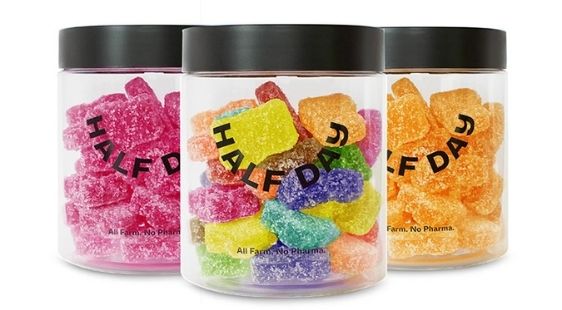 In Frame: Half Day - CBD-Infused Gummies
THC edibles get all the hype, but hemp-derived CBD edibles are powerful, too! If you're looking for a non-psychotropic good time, Half Day's gummies are the pick. Choose from six great flavors:
1) Watermelon
2) Strawberry
3) Peach
4) Coffee
5) Cherry
6) Berry
There's also an option for an assortment of all the flavours. Check out Half Day's gummies here and read the great reviews!
Munchies by Heavenly Sweet
Heavenly Sweet doesn't have a product called Munchies, but they do have an entire selection of unique cannabis-infused snacks you won't find anywhere else!
Find Ranch, Chili Lime, or Sriracha Crackers, caramel corn, and the brand's corn cereal "Buddies" line, all with 100 total milligrams of THC. The Buddies line features peanut butter and chocolate Muddy Buddies, bright and crispy Lemon Buddies, and white chocolate and crème-filled Cookie Buddies.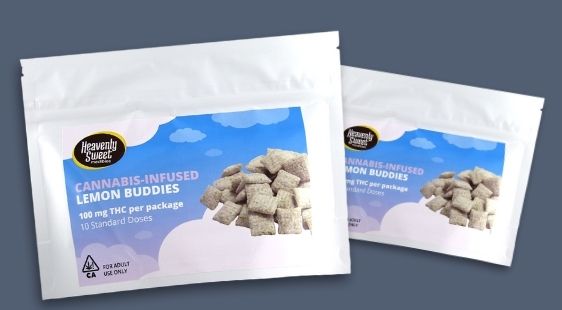 In Frame: Munchies by Heavenly Sweet
Heavenly Sweet also has a cannabutter line, with your choice of 1,000 or 2,000 milligrams of THC per container. Whip up your own amazing recipes using Heavenly Sweet's infused butter or choose from their Treats line.
Heavenly Sweet is the edibles brand for California consumers looking for a unique cannabis experience. They go beyond brownies and gummies, incorporating culinary perfection into each and every snack while encouraging you to get creative and make your own awesome recipes using their cannabutter.
How many edibles should I eat?
If you're a first-time cannabis consumer, always go low and slow until you learn your dose. This is especially important when you're eating edibles.
Edibles take a while to fully digest and take effect in your system, sometimes up to three hours. If you take too many edibles at one time, the THC will metabolize in your system at once and hit you out of nowhere. This can be a scary feeling for new consumers, and even more experienced ones, so just take it slow.
We recommend starting with one cracker, gummy, or whatever it is you're eating. Wait 30 minutes, ideally an hour, before going for more.
The Cannabis Edibles Expo
All of the fantastic brands mentioned in this article (and more) will be at the Cannabis Edibles Expo in Chicago!
Join the biggest ever global gathering of cannabis edible and drink professionals, focusing on skyrocketing the consumable cannabis space. If you're a growing business in the U.S. cannabis: this is the two-day event for you to network with other businesses.
Find us at the Midwest Conference Center in Chicago on November 16th, 2021.
Looking forward to meeting you again next time.