9 Questions With Max Simon - A Peek Into Cannabis Education
Max Simon, CEO at Green Flower gives a peek into the world of cannabis education.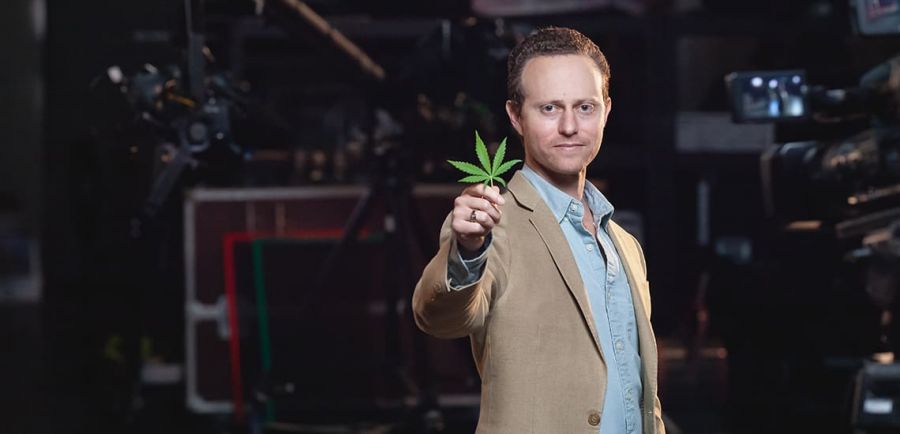 21/10/2019
The Cannabis industry is seeping through all the nooks and crannies across the globe, all set to conquer a large part of the world eventually. The growth of the cannabis industry brings around a lot of questions and confusion regarding cannabis itself. Even with the partial legalization of cannabis, it is still a very controversial topic for some.
This is where cannabis education is needed. Kofi Annan once said "Knowledge is power. Information is liberating. Education is the premise of progress, in every society, in every family"
Companies like Green Flower are shining a light on the cannabis education sector, spreading knowledge the right way, and being a part of the growth of the cannabis industry.
Editor in Chief of Cannabis Edibles Expo sat down with Max Simon, CEO at Green Flower. Simon spoke about his journey with cannabis and gave his insights on cannabis education and his vision for the future of cannabis education.
Tell us a little about yourself and how you got into the cannabis industry
I've used cannabis to tame my ADD for decades and have always had a deep relationship with the plant. However, when I was looking for trustworthy, credible guidance on using cannabis for ailments and conditions, growing cannabis, or transitioning into the cannabis industry, I couldn't find anything that gave all the necessary details. We started Green Flower in 2014 to provide trusted cannabis education and training to the world, that way people can experience the personal and professional benefits of this remarkable plant and industry. Now we have millions of fans around the globe and just raised $20 million in capital to expand the business.
What is Green Flower?
Green Flower is a global leader in cannabis education, and we have different products that serve different needs. Green Flower Membership lets people stream thousands of expert-led videos covering all things cannabis, with four channels of original content that explore everything from cannabis as a medicine, to entering the cannabis industry, to growing your own cannabis and hemp, to cooking with the plant, and much more.
Green Flower Academy is our industry-endorsed online training platform that helps people succeed within different sectors of the industry, including medical applications of cannabis, cannabis compliance & regulations, cannabis cultivation, patient care, and retail sales. We also started working more intimately with companies who want to use Green Flower to train their teams, which has been incredibly exciting and fulfilling. Green Flower is now finalizing partnerships with colleges and universities across the nation that will use our curriculums to power cannabis education programs.
What was the inspiration behind Green Flower? What got you into the cannabis education sector?
Millions of people around the world are looking for trusted information and guidance around cannabis today, such as using cannabis as medicine, growing cannabis and hemp, starting a career in this booming new industry or expanding their business into the sector. Our professional background in media and education blended with my personal experience with cannabis was the perfect cocktail to tackle this big opportunity, so we started Green Flower. Our inspiration is to bring trust, credibility, and direction to people looking for credible guidance around medical cannabis, cannabis cultivation and cannabis business. Having worked with over 700+ leading subject matter experts, it's amazing to see what a huge reach and impact Green Flower is having on people around the world.
---
Cannabis edibles are taking over. Click here to know more about the emergence of cannabis edibles in the US market.
---
So where does Green Flower stand currently in the industry?
Green Flower Membership is producing video content every day that helps people stay on the cutting-edge of cannabis, and we're excited to continue to showcase the experts and companies who are truly leading the cannabis movement forward. Green Flower Academy has new online training programs coming out over the next 6 months that cover cannabis extraction, cannabis business, CBD, hemp, cannabis finance and beyond. We have a roster of companies inside and outside of this industry who are using Green Flower to train their people and that list is growing fast. Recently, we've established programs with industry-leaders like NACB (National Association of Cannabis Businesses) and NORML (National Organization For The Reform Of Marijuana Laws). We are also about to announce our first set of Higher Education partnerships to power the cannabis curriculums of colleges and universities around the country. It's such an exciting time!
Max Simon, CEO at Green Flower
Where do you see Green Flower in the next 5 years?
Our goal is to educate one million people about cannabis by 2025 through our membership, online programs, enterprise relationships, and university partnerships. We also have our sights set on international expansion to Latin America and Europe.
Where do you see the cannabis industry by 2025?
By 2025, cannabis will be fully legalized in the United States and in a majority of countries worldwide. There will be an explosion of new cannabis products and delivery methods, including ones that treat very specific ailments and conditions with great efficiency. The global cannabis industry will easily exceed $100 billion in annual revenue, and over a million people will be employed by this blossoming sector.
What do you think about Cannabis entering the food spectrum?
Cannabinoids, the active ingredients found in the cannabis plant, will increasingly be seen as functional ingredients for food and beverages much in the same way people utilize caffeine. It's fantastic that the CPG and restaurant industries are getting increasingly more excited about using cannabinoids and cannabis. As they continue to become widespread, consumers will begin to purchase and enjoy these products with increasing desire and enthusiasm.
What are some of the challenges you faced while entering the cannabis education industry and building Green Flower?
Most of the world still has a negative "knee-jerk" reaction to cannabis because of its stigma and misinformation. That makes just about everything in business more difficult to accomplish -- from establishing normal business relationships (like merchant accounts) to attracting talent to having access to business growth capital. As we built Green Flower we've had to deal with all these issues. Landlords have rejected our proposals, bank accounts have shut us down and it has been incredibly difficult to secure funding. That said, we knew our company was valuable, scalable and had a peak into the future -- so we prevailed and are succeeding!
---
What is Cannabis Edibles Expo? Why did we launch? Click here to find out.
---
What is your favourite form of consuming cannabis?
I consume a THC-based oil tincture on a daily basis to manage my ADD. That's my medicine, and it's been 100x more effective than any pharmaceutical. Because of how valuable it has been to my life, this is my favourite form of consuming cannabis.
Looking forward to meeting you again next time.