9 questions with the makers of the first cannabis infused jam in the business
Cannabis Food Show talks to Stephany Gocobachi from Flour Child Collective, the company to introduce the first cannabis infused jam in the business.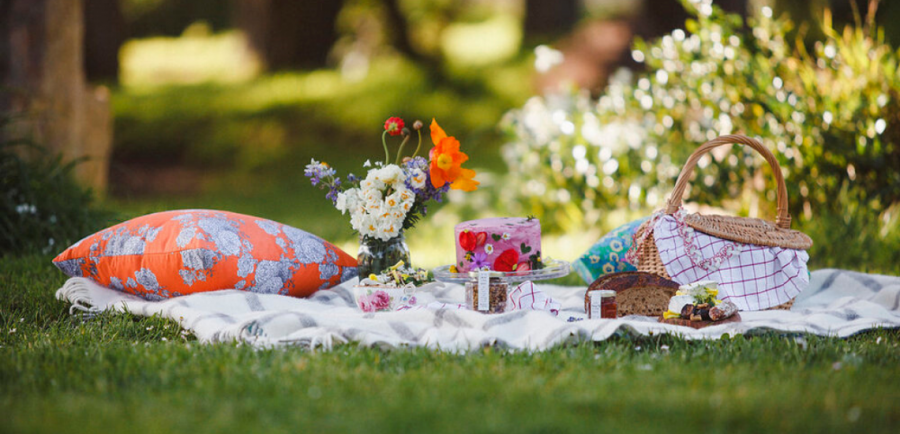 14/02/2020
Stephany Gocobachi, Founder & CEO of Flour Child Collective sits down with Cannabis Food Show and takes us into the world of cannabis edibles, and Flour Child Collective.
Flour Child Collective was launched in 2015, being the first cannabis business to produce cannabis infused jam. In today's chat with Stephany, she talks about the birth of Flour Child Collective, and how to effectively build your cannabis edibles company.
Tell us a little about yourself, how did you get into the cannabis world?
I was born in San Francisco and grew up in the Bay Area, so cannabis was a part of the culture around me from a very young age- and I was blessed with quality from the very beginning. Since childhood I was always obsessed with food and cooking, and cannabis does a wonderful job of enhancing that. It wasn't long before I discovered edibles, and became curious about making my own. A close friend's older brother was working on a pot farm up in Humboldt at the time, and began bringing me bags of small buds and trim to play around with. I infused everything I could, and tried new recipes out all out on my friends. It quickly became my favorite thing to do.
And how was Flour Child birthed? What was the inspiration behind it?
Flour Child was birthed after my first experience in a dispensary. I got my doctor's recommendation on my eighteenth birthday, and promptly went downstairs to the shop. I was so excited to finally go in, and then...so disappointed by the quality and selection of edibles on the shelves. At that time, very little was regulated, and very few cared about the quality of what was going in. Dosage tended to be super high and was not even taken into account for the most part, nothing had to be tested — which led to unpredictable and often terrifying experiences, enough to put a lot of people off of edibles in the future. It didn't make sense to me that in San Francisco, where we are so proud of our food and love to champion "farm-to-table", that the edibles were not at the same caliber. I wanted to make edibles that were as delicious as anything you could get in bakeries around town, with a dosage that was consistent and easy to titrate to your personal needs. I saw edibles as a way to open minds to the world of cannabis and remove some of the stigma. Cannabis can help so many people with so much, but decades of miseducation have suppressed a lot of them from trying it. At the same time, it's all about presentation. My grandma is a lot more likely to try a bit of microdosed Jam or use a CBD Balm than smoke a joint, and I think a lot of that is that it comes in a more digestible format than what they have been told is wrong forever. So, I made that my mission. To learn everything I could to prepare me to one day start a little company and do things a little differently.
Tell us a little bit about what you do. What is Flour Child exactly?
Flour Child is a (cannabis) brand for food lovers. Our main focus is edibles, but we translate our obsession with quality and sourcing to other cannabis products - like our best-selling CBD Relief Balm and Flower Rosin. We also create bespoke experiences through tea and dinner parties, as well as cooking and cannabis education classes. Everything we do starts with quality ingredients- we have the same high standards for the fruit in our Jam to the cannabis pressed into our Rosin. We love to work with small farmers who are stewards of the land and members of our community, because we really wouldn't be able to do what we do without them. The ultimate dream is to one day have our own farm as well, to grow cannabis and produce for our goods.
When making jams and cannabis infused food, what are some of the challenges you faced when you first started out?
Finding quality inputs is always a challenge. Most people don't use really great material to infuse edibles, whereas we believe the better the quality is to begin with, the better the end result will be — in both taste and effect. If we wouldn't smoke it, we won't feed it to you. We originally sourced from a handful of artisan cold water hash makers, but eventually were able to move towards making our own concentrates to use, which really allowed us to control quality to the level we wanted. We could choose exactly which strain and how to press it to express the characteristics wanted in the end. That said, not every strain tastes great in every application! Cannabis is a very fragrant flower, and runs a huge spectrum in aroma and flavor, and it's not all necessarily interchangeable. Earthier, spicier strains can overwhelm more delicate flavors like apricot, but stand up to more robust ones such as blackberry. I love pairing strains with flavors that echo them- like Blood Orange Marmalade infused with Sour Tangie rosin, or Strawberry Jam infused with Strawberry Banana rosin- you almost can't tell where the flower ends and the fruit begins.
And what are some of the challenges you tend to face now?
The challenges are very, very different now. Right now, we are grappling with getting our cannabis line back on the market in a highly regulated space that is not very friendly to small business. A few years ago, things here really were like the Wild West. Now, it's "legalized" but really, it's less legal than it ever was in a lot of ways. We have been looking for the right partnership, which has been its own journey, and are now working on raising capital to get back in business on our own terms. It's definitely been tough getting so many emails from our patients who continue to look for our products and can't find them now, but it's also what motivates me to get things going again — no matter how tough the road is.
What about branding and marketing? Marketing for the cannabis world can be a little tough due to the rules and regs. How did you go about marketing Flour Child successfully?
We have never really been very traditional about marketing — like you said, we can't exactly with the rules and regs, as well as with a bootstrapped budget. We're really grassroots, and we've really mostly done social media and word-of-mouth, and good old-fashioned pavement pounding to get our products into shops. For being such a tiny operation, we've gotten a fair amount of press. The first month after we launched we got a cover spread in the San Francisco Chronicle Food section. That was really encouraging, to be noticed right away for the culinary approach we take to cannabis. We always did demos at the shops we worked with, and it usually involved snacks. We've done a couple of cannabis tea parties, dinners, and spreads at various events.
Honestly, we really haven't done much marketing at all, I'm always amazed that people find out about us! We've been pretty low key about it especially for a while, since we've been on a production hiatus. As we get back into production and launch some new things though, we'll be getting back into it.
Tell us a little about getting into the retail space with your products. What's the process like? What are some of the challenges? And how do you think you'll overcome them?
Cannabis retail and its challenges have changed so drastically over the past few years. When we started out, a lot of what we heard was that our products were too low dose, too "nice", and that people only cared about dollars per milligram. Some shops got what we were doing right away, but we did get a lot of push back in the beginning for emphasizing quality and experience over sheer dosage. That just wasn't the trend back then— which is exactly why we wanted to offer an alternative. Something your mom or grandmother could walk in and buy and use easily and not be terrified of getting too high. And something that offered a little moment of joy in the everyday, that hopefully helped a few other things along the way. Now it's the opposite — low dosage and emphasizing quality are two of the biggest trends in edibles.
Our process for getting into retail was really old-fashioned. Cold calling shops, making appointments with buyers, dropping off samples and seeing where it goes from there. After a while, we started getting contacted by shops. We'll have to go through the process again from scratch as we relaunch, though now the industry is flooded with distributors and sales reps so I'm sure it'll be quite a different ride. We'll start with the shops we already have relationships with, and grow it slowly from there.
We are getting ready to launch our edibles and topical made with hemp CBD to order on our website directly. We'll have those available in select shops as well. Eventually, I would love to have our own little retail shop and café — which was the original pipe dream for Flour Child back in college when I first started conceptualizing and before I realized it wasn't quite possible…yet.
So for someone looking to enter into the cannabis industry with their product, what's one piece of advice that you would give them?
Find a great partner to work with, let go of all your expectations, and brace yourself for a wild, wild ride. And never forget why it is you wanted to do this in the first place. Oh, and don't expect to get rich quick. Or perhaps, at all, TBD
Looking forward to meeting you again next time.