2021 Cannabis Edibles Expo - Book Your Exhibitor Spot Now
Cannabis Edibles Expo is dedicated to bring the edibles and cannabis industries together.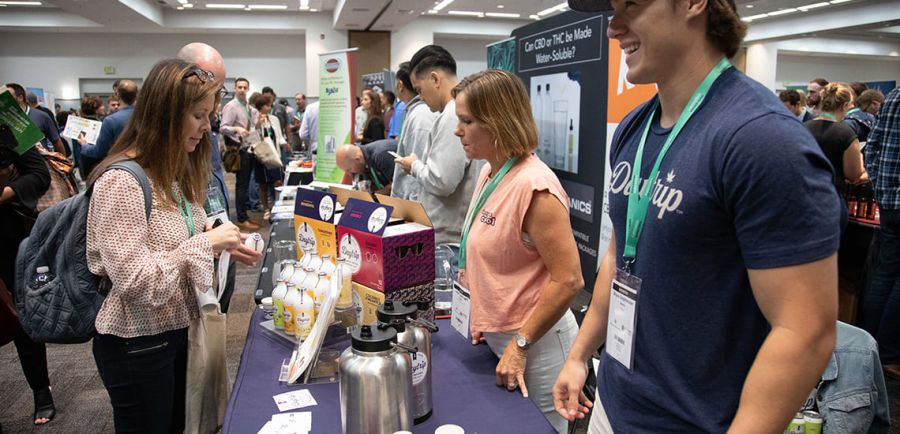 30/06/2021
Following the immense success of the Cannabis Drinks Expo, Beverage Trade Network is bringing the Cannabis Edibles Expo to both San Francisco and Chicago in November 2021.
The 2021 Cannabis Edibles Expo, in both San Francisco and Chicago, is set to bring together cannabis industry professionals and discuss the opportunities in bringing the edibles and cannabis sector together. The Cannabis Edibles Expo is going to be the perfect spot for people who are already in the cannabis edibles industry to meet with others across the wider world of cannabis, and it is also a great networking opportunity for those wanting to venture into the growing world of the cannabis edibles sector.
The exhibition is set to bring the cannabis and edibles industries together with the first of a series of dedicated business-to-business events, and a mission to expand the fast-growing cannabis edibles category.
It is expected that the Cannabis Edibles Expo will attract a plethora of exhibitors and visitors, including cannabis producers and brand owners, across the two shows, mainly from the US, but also the thriving cannabis edible markets around the world.
Why Cannabis Edibles Expo?
With the cannabis industry expanding, legalization taking place, products blooming from left and right including skincare, beauty, edibles, drinks - the platform to explore the idea of both the cannabis and edibles industries together was close to non-existent.
The Cannabis Edibles Expo was birthed to solve this exact issue and offer a large platform and open doors to the thriving cannabis edibles sector.
The major purpose of The Cannabis Edibles Expo is to bring together the ever-awaited Cannabis and Edibles industries and give restaurants, chefs, cannabis brands, dispensaries, and other cannabis-related platforms an opportunity to bring their product to life in front of distributors, investors, retailers, and other industry professionals who are either looking to enter the Cannabis industry or are already a part of it and are looking to expand.
So if you are looking for an open door into the cannabis edibles industry, looking to meet investors, and other cannabis industry professionals, then don't forget to book your exhibitor spot now.
Alongside the trade exhibition, the Cannabis Edibles Expo will also hold a conference, which will be a combination of panel debates, offering practical business advice on how to grow your cannabis business from major players in the sector to leadership talks from some of the biggest names in this fast-growing market. The focus will be on sharing best practice ideas on how to make the most of cannabis edibles in different channels and the constantly changing legal framework within which producers and retailers need to operate.
Who are the visitors?
Dispensaries

Venture Capitalists

IA&C Act Defaulters

Press

Chefs

Podcasts

Local Visits

Local Magazines

Testing Labs
Who can exhibit?
Edible Brands

Cannabis Chefs

Medical marijuana producers

Cannabis growers

Cannabis producers/ product developers

Cannabis processors

Cannabis distributors/transporters

Pharma companies
Equipment and service providers

CBD manufacturers

Marijuana-Infused products and edibles providers

Testing and laboratory services

Logistics and supply chain operators

Drinks distributors/wholesalers

Drinks importers

Lobbyists/ public affairs businesses

Political advisors
Book today and save $600 per show.
Where and When?
▶ November 12, 2021 - South San Francisco Conference Centre (11 am to 5 pm) - San Francisco
▶ November 16, 2021 - Midwest Conference Center (11 am to 5 pm) - Chicago
Exhibitor Pricing
$1600. (Get 20% discount if exhibiting at both locations - San Francisco and Chicago)
Set up Includes:
6' x 30" Table-Top, with black skirting

(2) Chairs

(1) E-Program Guide Listing
The show is a trestle table set up, you will not pay anything extra for chairs and tables and wifi. Your pricing covers ALL costs associated with the show. You are required to bring in one roll-up banner only and may place marketing material on your table.
About the organizers
The Cannabis Edibles Expo is organized by the Beverage Trade Network, a leading platform that connects the alcohol beverage world. BTN is also the organizer of Cannabis Drinks Expo, USA Trade Tasting, IBWSS (San Francisco, London, China), and Future Wine Expo.
Looking forward to meeting you again next time.