Kiva Confections Launches New CBN Gummies To Boost Sleep
Kiva Confections launches new CBN gummies that are designed to help in improving sleeping patterns.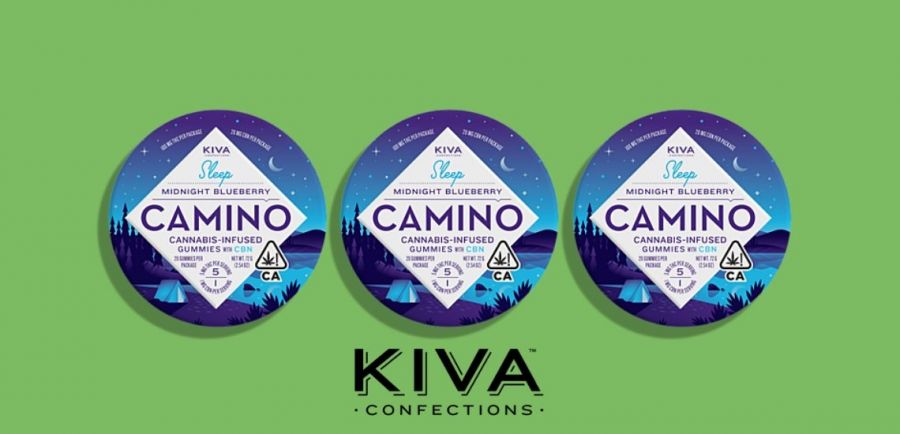 23/01/2020
Kiva Confections, the Californian based edibles brand, is launching a new gummy which is designed to boost sleep. The edibles brand started off the campaign with a rather strong statement - "CBD is dead".
Kiva's new gummies, The Camino Midnight Blueberry is the brand's first step into CBN. CBN is a cannabinoid which is known to do things like improve one's sleep and ease restlessness. Kiva says that that gummies do the job without the next day groggy feeling which is common in most sleep boosting gummies.
"With over a third of all Americans sleep deprived, it became clear that there was a need for a product that enabled people to rest and recover from their busy lives," Kiva CEO and Co-Founder Scott Palmer said in a statement. "CBN is a prevalent cannabinoid (similar to CBD) that has been linked with restful effects. We formulated a THC, CBN and terpene recipe with functional ingredients added to offer consumers our most relaxing product yet." (Forbes)
Each of the Camino Midnight Blueberry gummy will have 1mg of CBN and 5mg of THC. The gummy is made with hints of chamomile and lavender oil, along with a blend of replaying terpenes - which will help in bringing a peaceful night's sleep.
Like most edibles out there, Kiva's new gummy's effects can last up to eight hours, which can help you get the recommended amount of sleep needed.
So what exactly is CBN?
Cannabinol, which is also known as CBN is a non-intoxicating compound found in cannabis and hemp plants, and is taking over the cannabis sector. It is known for its natural anti-inflammatory and pain relieving properties.
"We found that CBN slightly prolongs the sleep time in barbiturate-induced sleep in mice. There is no current information that I am aware of that proves CBN is a sedative, even though it is already being marketed as such," says Zoe Sigman one of the principal researchers at Project CBD, a leading think tank and non-profit CBD information site. (Forbes)
CBN comes from THC being oxidized and decomposed. This means that when THC is heated and exposed to oxygen, it converts itself to CBN. CBN is said to have a slight psychoactive response, which is more than CBD but comparatively less than THC.
Meet Kiva Confections at Cannabis Food Show
Kiva Confections is going to be exhibiting at the first edition of the Cannabis Food Show. The brand will be meeting with buyers and visitors, connecting with them, and sharing knowledge and awareness about their edibles.
The Cannabis Food Show is set to take place in both San Francisco and Chicago on July 30, 2021, and August 4, 2021 respectively.
What is the Cannabis Food Show?
Organized by Beverage Trade Network, the Cannabis Food Show is the first global event dedicated to the fast growing cannabis edibles market is to be held in San Francisco & Chicago in the summer of 2021. It will be the chance for major cannabis players, investors, brand owners, distributors and retailers to analyse both the major trends that are driving the cannabis food category forward.
Along with the exhibition floor, the Cannabis Food Show will also offer a conference with speakers from the leading side of the canna-verse. Industry leaders such as Andrea Drummer, Chris Saygeh, Nancy Whiteman, and many more will be speaking at the conference.
Check out the list of speakers here
Looking forward to meeting you again next time.